There are a few different ways a double barrel stove can be assembled. If well designed, a double barrel stove can take center stage in any setting and be a conversation piece.
Here are a few designs, with a couple of high efficiency double barrel wood stoves converted to operate as double barrel smokers. So read on below to get your imagination started, and hopefully start building your own double barrel wood burning stove.
Two Barrel Wood Burning Stove with Large Tubes
As double barrel stoves are inexpensive to build, its very common to see them heating workshops.
This two barrel wood burning stove is setup in a workshop and provides plenty of heat.
The owner states that raising off the ground make loading wood and starting fires easy, as it means you dont have to kneel down at the door.
The heat exchanger tubes are very large, allowing a simple construction with air ducts, that are press fitted, no welding required. A fan at the rear push air through the ducts, warming the air and moving it through the workshop.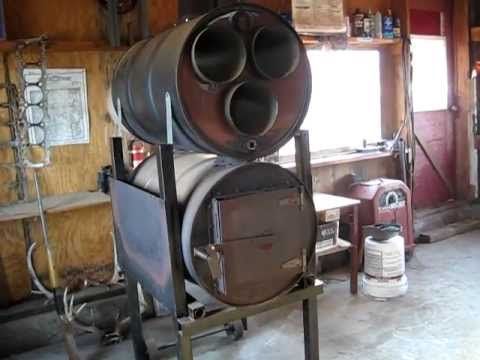 The other notable design feature of this stove is the use of two flue collars. The second flue collar helps draw more air from the fire chamber.
DIY Double Barrel Wood Store for Work Shop
Another well crafted example of a DIY Double Barrel Wood Stove.
This unit is built with a Vogelzang Barrel Stove kit.
The kit helps keep the design neat and the top barrel will supported.
The heat exchanger on this unit is divided into two chambers. This increases the length of time the hot air is on contact with the heated tubes, therefore transferring more heat.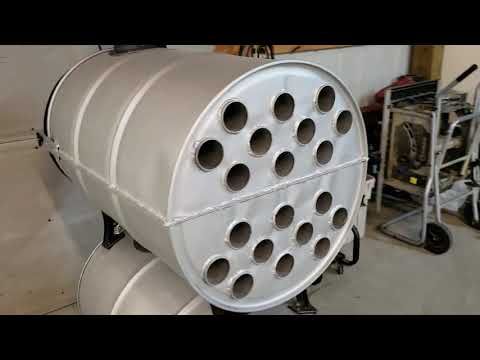 The fan at the rear is neatly mounted and is imperative important to keep that air flowing through the tubes to produce the heat.
The owner has this installed in a 600 sq. foot workshop and keep him toasty warm.
A Reverse Flow Double Barrel Smoker
Many people are catching on that a double barrel stove can easily be converter into a smoker.
Smoking is a great way to cook food, adding lots of flavor that is difficult to get elsewhere.
This double barrel stove design using the reverse smoking method. The reverse smoking method slows down the smoke from the fire by changings its flow direction.
The simple design trick is added by installing a flue pipe between the fire chamber and the smoking chamber at one end (usually furthest from the door). Then installing the flue at the other end of the smoking chamber.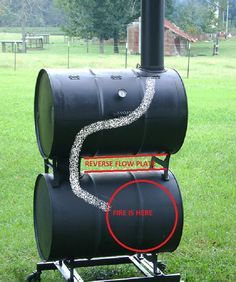 Double Barrel Wood Smoker Design
This smoker not only works well, but is cheap to make for a handy person inside a day, and looks great